This sponge cake might look a bit weird in green, but it tastes really good. it's from a kinda of green leaf called Pandan which has a naturally sweet and very nice dessert flavor. and it's originally from Malay.
and of course the recipe involves pandan. it's really hard to find pandan leaves. so we use pandan essense. it looks like this:
我都知舊蛋糕綠得有d恐怖,咁係因為佢做左一種叫做「班蘭(pandan)」既植物。個樣怪就怪左d,但其實好好食架。佢係來自馬來西亞既朋友。
班蘭葉ok難搵,所以我地改用一種班蘭香精黎代替。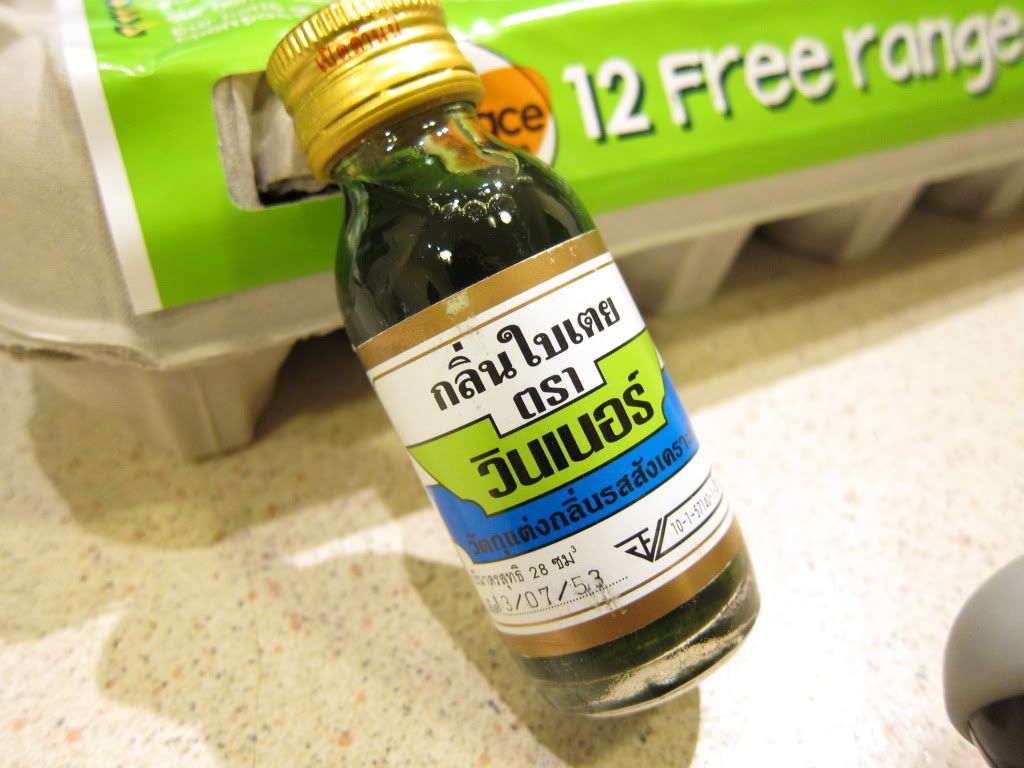 yeah, if you don't even understand what it says on the label, that's the one.
我知你睇唔明個樽d字,總之樽班蘭香精就係咁既樣,認住就無錯喇。你睇唔明果樽就係喇。
Ingredients
150 grams cake flour
1/2 tsp baking powder
1/4 tsp salt
7 egg yolks
300 ml coconut milk
2 tbsn pandan juice
160 grams caster sugar
12 tsp pandan essence
7 egg whites
50g butter
材料﹕
150克 蛋糕粉(低筋麵粉)
1/2茶匙 蛋粉發粉(自發粉)
1/4茶匙 鹽
7個 蛋黃
300毫升 椰奶
2湯匙 班蘭汁
160克 幼糖
12茶匙 班蘭香精
7個 蛋白
50克 牛油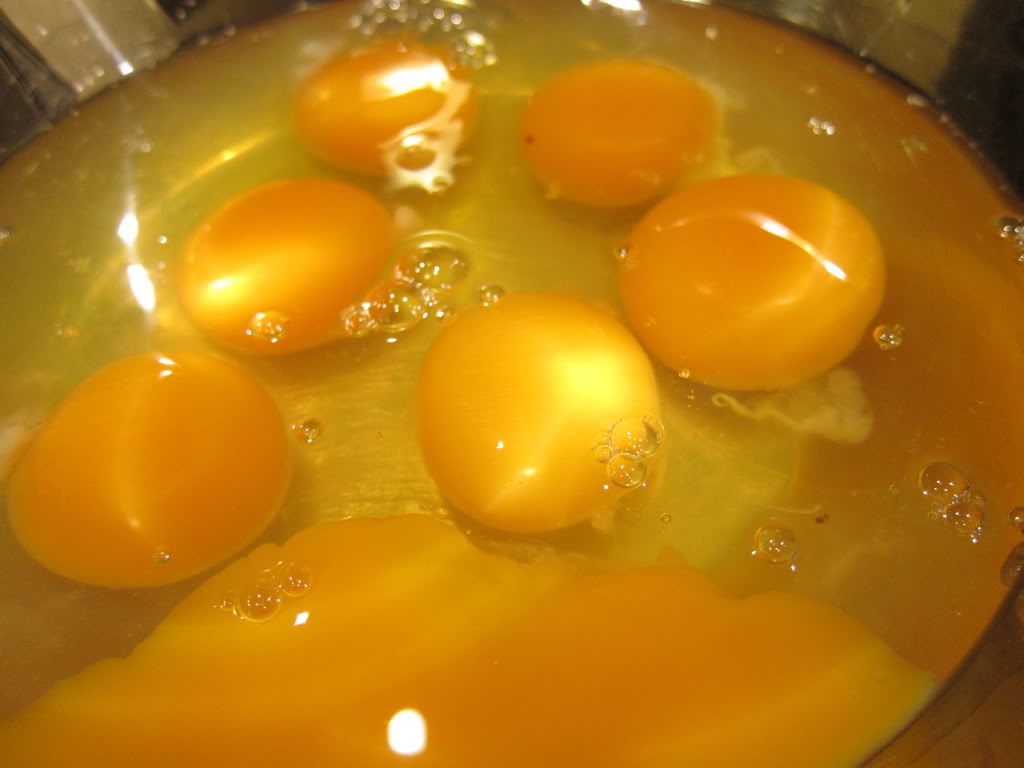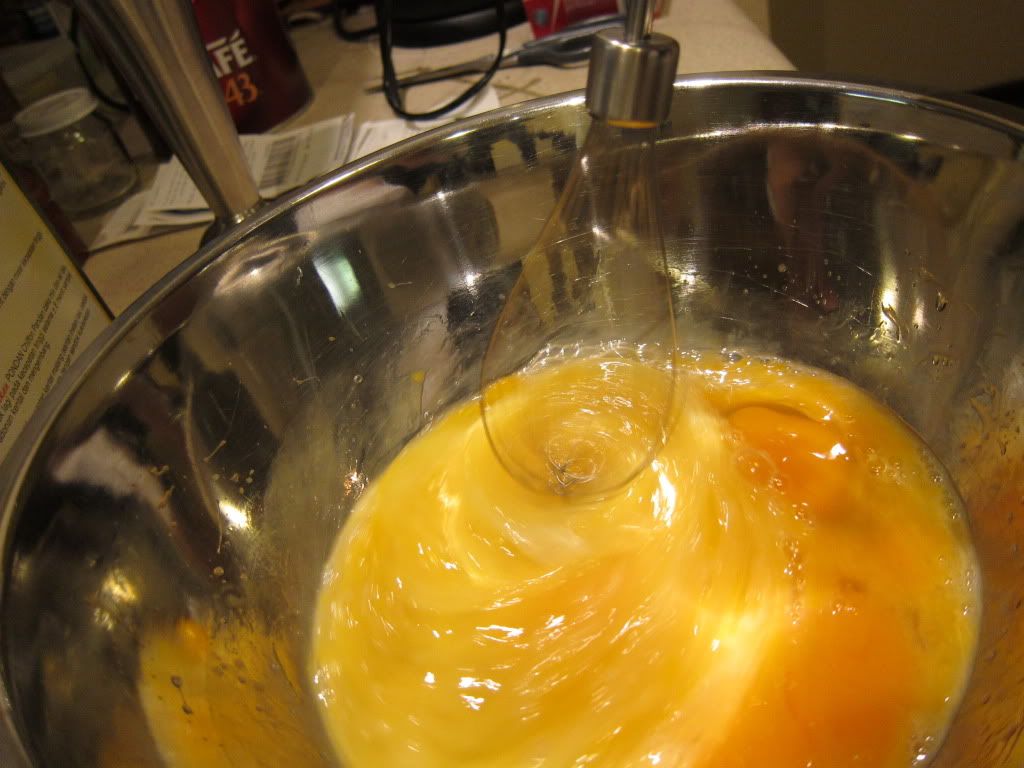 beat the eggs with electric mixer.
打蛋。當然最好用機打,用手打會打成世都未打完。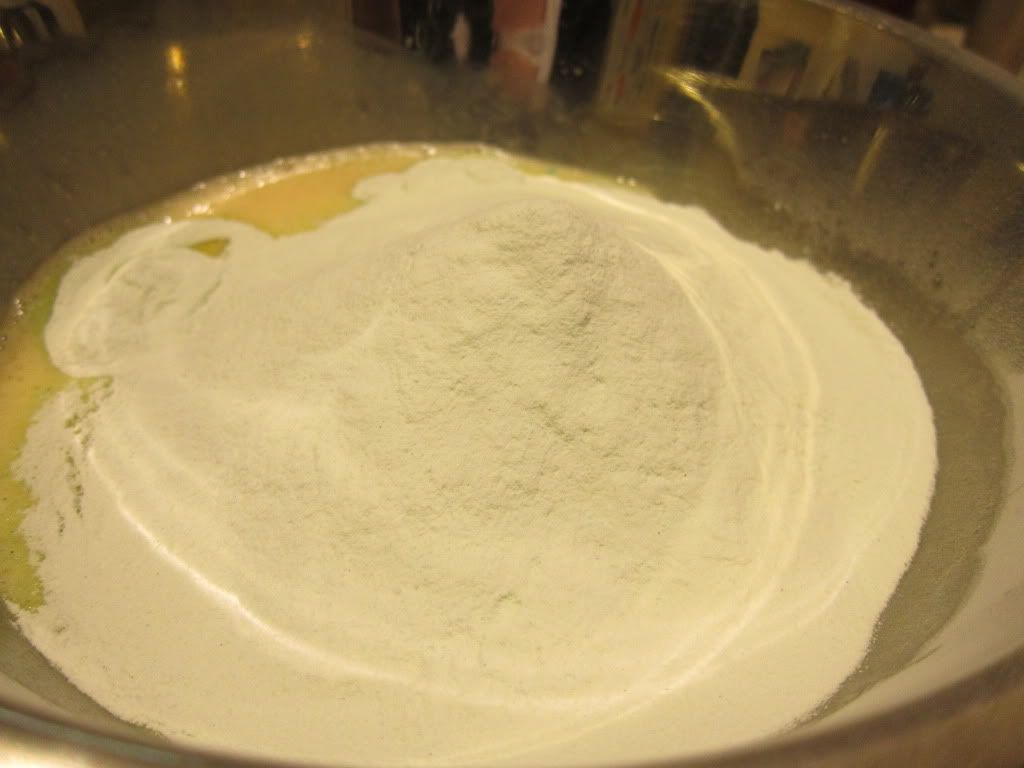 self raising flour
自發粉
coconut milk
椰奶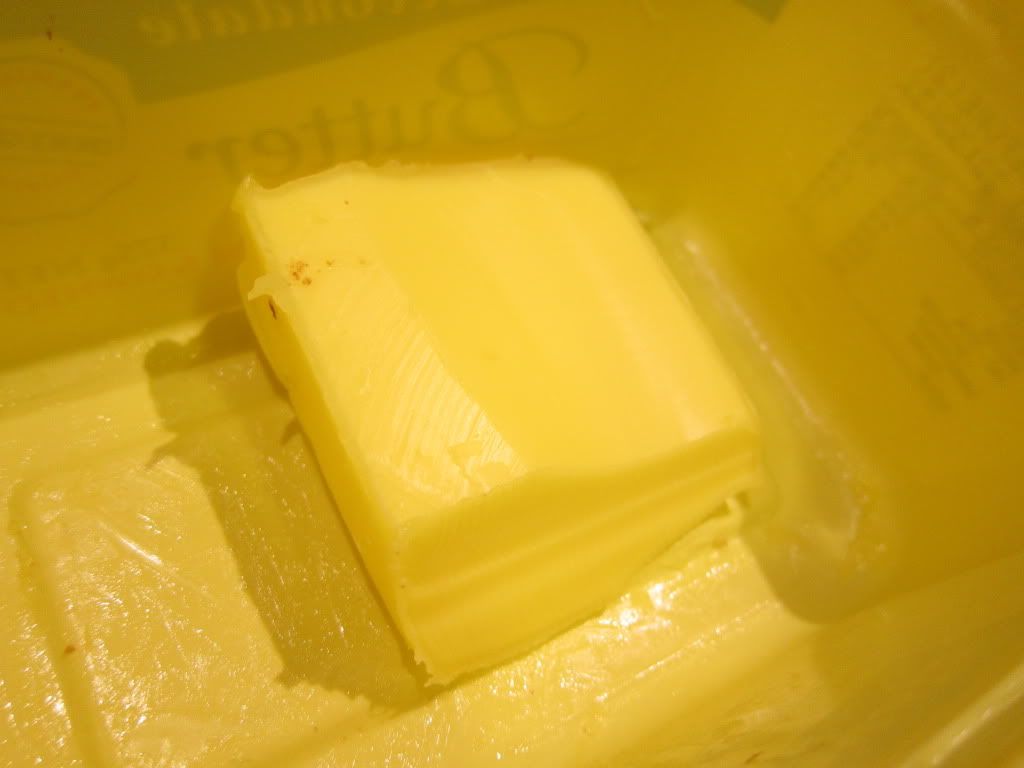 put the butter in microwave for 20 seconds. it'll make it a lot easier in mixing.
放牛油落微波爐叮20秒左右,等佢溶溶地會比較易撈埋其他材料。
Below is the "proper" method of doing it. looks tedious.. if you're busy/lazy, be prepared to skip it, scroll down, and you'll get a easy version.
以下呢個係長到嘔既正式版食譜,但如果你咁岩係懶到嘔或者忙到嘔既人,咁你可以唔使睇呢幾大段野喇,直接跳去下面睇個簡易版。
Yeah lazy people rock.
* Preparation Batter *
Pre heat the oven to 160c/350 f(convection).
Pour the coconut milk into a saucepan and add the castor sugar (160 g). Bring to a boil, stirring slowly to dissolve the sugar. Set aside to cool.
Sieve the cake flour, baking powder and salt.
In a bowl, combine the egg yolks, coconut mixture, pandan juice and pandan essence.
Whisk lightly, then add the flour to the egg yolk mixture. Mix until the batter is smooth. Set aside.
Whisk the egg whites lightly and add in the cream of tartar and castor sugar (1 tbsp). Continue to whisk until the mixture is stiff. Do not overheat or allow the mixture to become dry. Set aside.
* Baking the cake *
Gently fold half the beaten egg whites into the egg yolk mixture and blend well.
Fold in the remaining egg whites and work very lightly with a spatula. Make sure the mixture is well mixed.
Place the finished mixture in an ungreased chiffon cake mould. Level and bake in the oven until golden brown (about 45 minutes).
Remove the cake from the oven and invert the mould. Allow it to cool.
Do not remove the mould while the cake is still hot.
When it has cooled, use a long, fine palatte knife to loosen the sides of the cake to remove it from the tin.
*準備功夫*
預熱個焗爐去到160c/350f。
攪混幼糖(160克)同椰奶,然後拎去開火煮熱,慢慢攪直到幼糖溶晒。放埋一邊等佢變涼。
篩一篩蛋糕粉、發粉同鹽。
將混蛋黃、頭先既椰奶、班蘭汁同班蘭香精撈埋一齊。
慢慢攪混材料,再加頭先篩過既粉,直到個蛋漿變得順滑。
*焗蛋糕*
慢慢將一半打好左既蛋白倒落蛋漿度,再攪混佢。
再倒埋另一半既蛋白落去,記得要攪得混。
將蛋漿倒落個唔黏底既蛋糕盤度,拎去焗到個表面變金黃色(大約45分鐘左右)。
拎返個蛋糕出黎,反轉個盤,等佢凍。
當佢仲熱果陣唔好急住拆個盤出黎。
等佢涼左,就可以用把切餅刀由個邊開始起返個蛋糕出黎。
呼,搞左咁耐,終於食得。
[EASY VERSION]
簡易版
Mix the ingredients (refer to the above pictures), beat with electric mixer on high for 3 mins until foamy and fluffy.
攪混晒所有野,用機打到佢起泡到蓬鬆,大約要打3分鐘左右。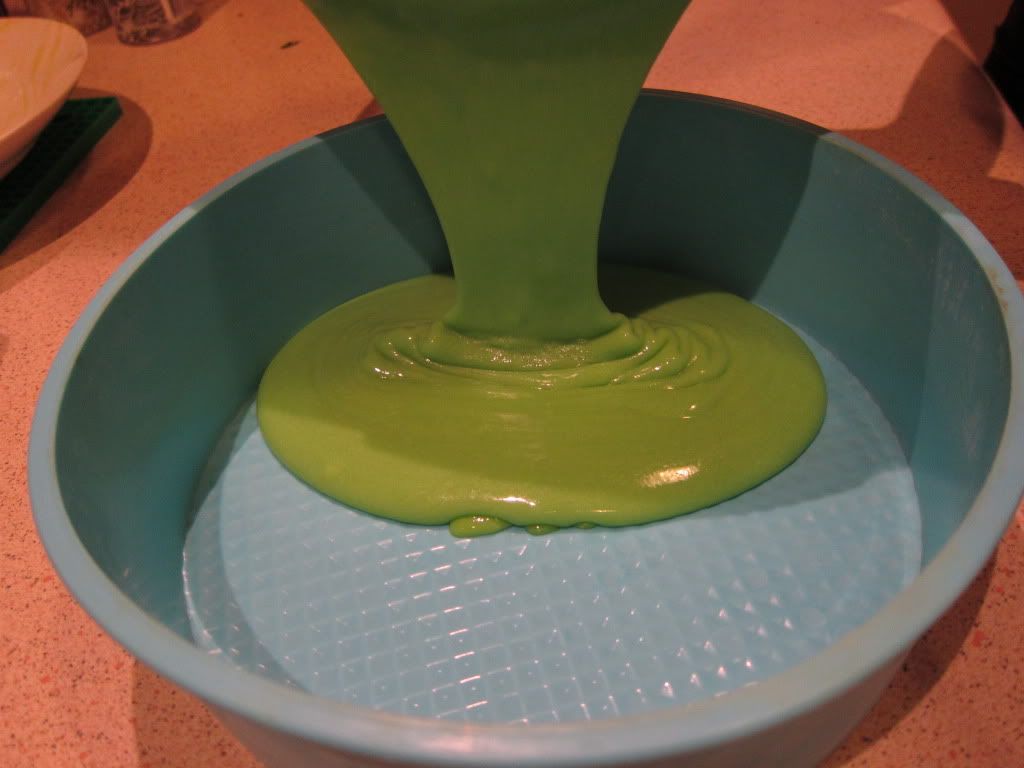 pour the misture into the baking tray
再倒落個蛋糕盤度。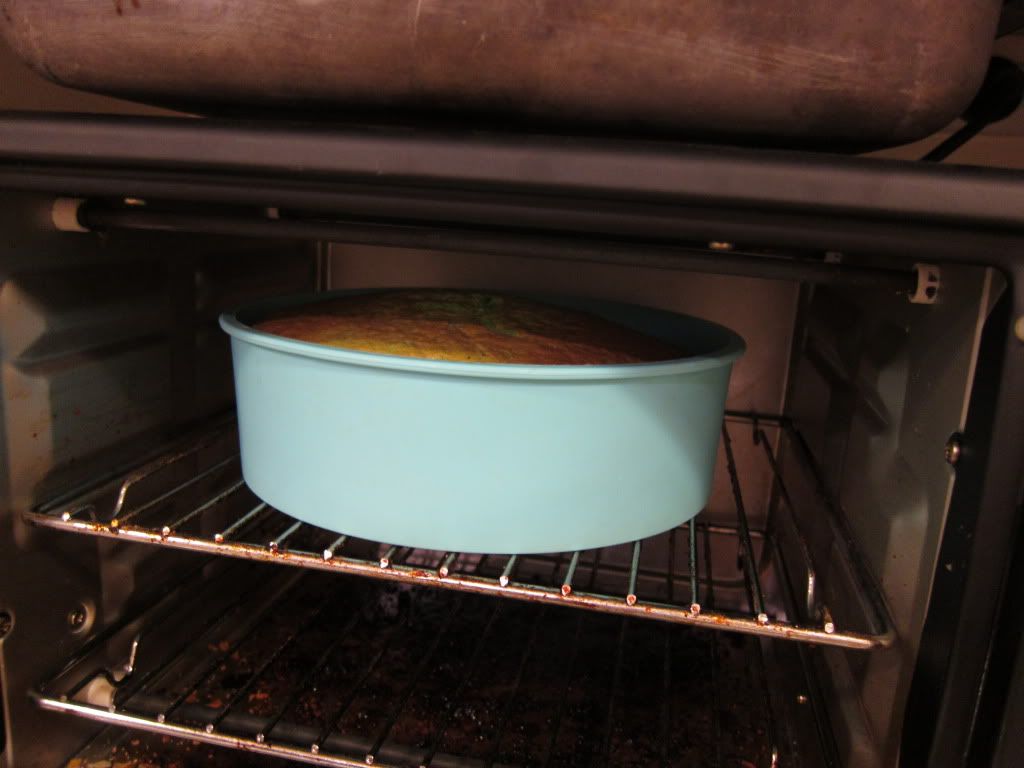 bake it, 160C for 40 mins.
拎去焗,160c焗40分鐘。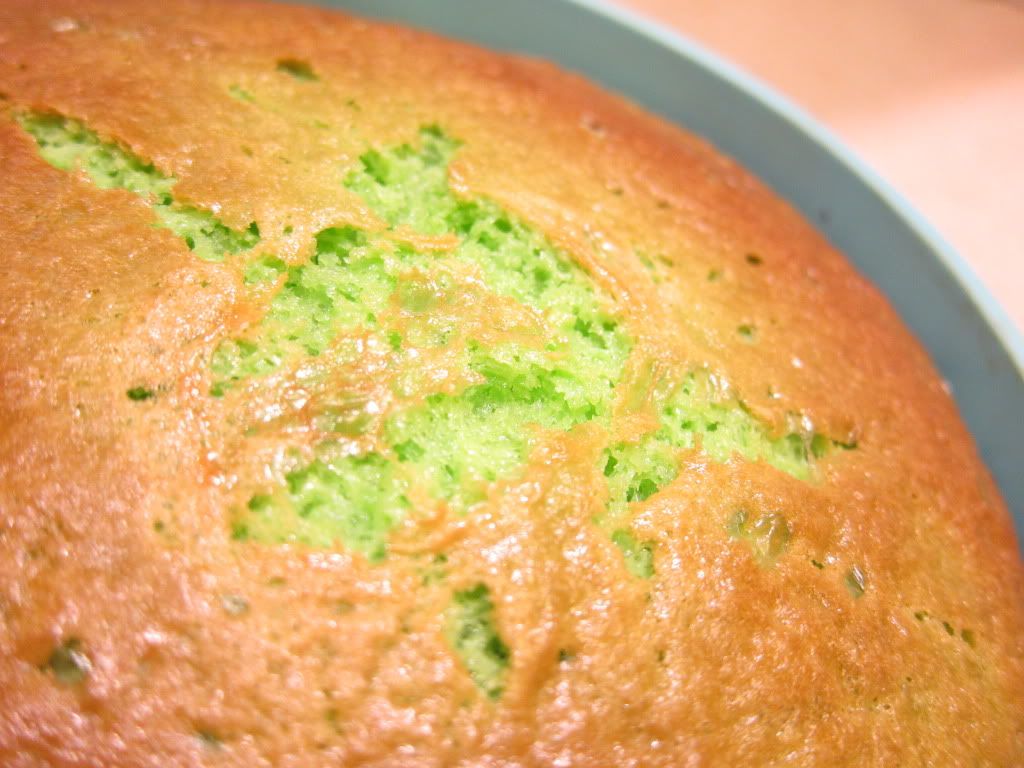 Done.
完左。
slice~
切件~
Reference: http://www.grouprecipes.com/5076/pandan-chiffon-cake.html
http://www.pondan.com/pondan/eng/cake/pandanchiffon.php
特別鳴謝中文撰寫: 銀戰士

Acknowledgement to interpretation to Chinese: Silver Ranger